How To Straighten Human Hair Wigs
If you adore the sleek and straight look, follow these steps to straighten your human hair wig. For this process, you'll need:
Canvas blockhead
T-pins
Wide-tooth comb
Hair clips for sectioning hair
Straightener or flat iron
Shaping Creme
Hairspray - you can use a hairspray made for biological hair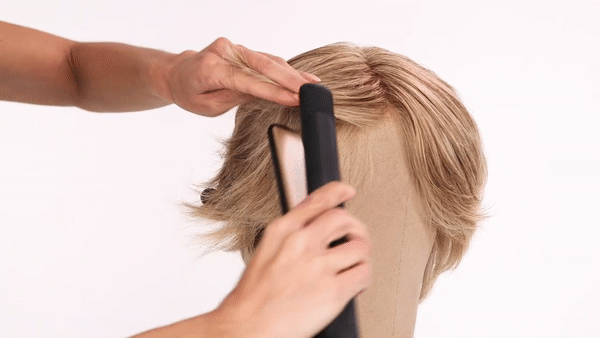 If you are just now coming to this article, make sure that you read the "prep" section above to ensure your wig is properly secured to your styling head and the hair is properly prepped to be heat styled.
Set the heat on your straightener to 275° F.
Just like blow-drying, this process is easier to do in sections. Separate the hair into sections and leave the very bottom (nape) section out.
Detangle hair with a wide tooth comb if needed.
Take a small section that is no wider than the flat irons' plates—about 1 inch wide.
After about an inch from the root, start to run your straightener down the hair to the ends. Note: Starting just below the roots helps protect the hand-knotting on a hand-tied cap.
When running your flat iron down the hair shaft, make sure that you are not holding the heat on any areas for too long. Excessive heat can damage the hair.
Once you're satisfied with the look of this hair section, you can move on to another section.
Continue repeating these steps until all sections of the wig are entirely straight. We recommend going from bottom to crown.
Let the hair cool completely first before setting and finishing off your look with hairspray.
Optional Finishing Touches
If you notice the hair has flyaways that you would like to tame or if the front fringe is falling towards the front too much, we recommend using BeautiMark's Shaping Creme. Take a small amount of the product to your palms first and warm it in your hands. Then, apply the product to the areas where this medium-hold cream can work its magic!
Leave a comment